Get your garden ready!
With many of us looking to entertain outside this summer, our gardens have become a key area to improve. We have put together a few top tips to improve your outside space on a budget. Many of the ideas we have put together are cheap and easy to do.
Cheap way to improve your lawn
One of the cheapest ways to transform your garden on a budget is to cut your lawn into a defined shape, a simple square, rectangle or circle! You can do this with a tape measure, a piece of string and a spade. Some lawn feed, and a good watering will also do it the world of good.
---
Fill those boarders up cheaply
Once you have got your defined lawn, filling up your boarders is the next step. Plants like Geraniums, or Astrantia can be a cost-effective way to fill your flowerbeds. These types of plants are called hardy perennials. One of the best things about hardy perennials is that you can separate the plants to cover a larger area, just make sure each part has a bit of root with it. Then next year when they have grown a bit you can divide them up and spread the plants around even more. Or swap them with your family and friends and get some different plants in return. You can also look in the reduced section of the garden center, or asking friends and family for cuttings can help keep the cost down when buying plants.
Clear the way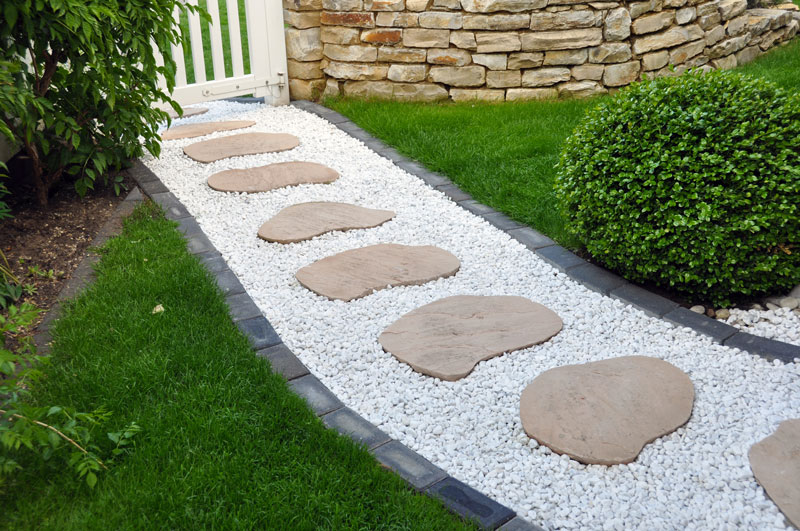 Cleaning and weeding your paths and patios are a must to refresh your outside space. You can do this cheaply by borrowing or hiring a pressure washer to clean up paving or decking. This can make a huge difference. If you are thinking of creating a new path, gravel can be a great option, as it can be a lot cheaper than buying paving. You still will need to mark out the area and pin down a permeable membrane to stop the weeds from coming through. Using light gravel can be a nice contrast to your lawn and planting, giving great results.
---
Lighting for evenings
White, red, blue or yellow? There is a huge range of outdoor lights that can add instant impact to your garden. Fairy lights can be arranged through shrub branches, or attached to a trellis. Static lights can be used to highlight a path or add drama to a tree. You can also get solar-powered versions of most lights if running the plug from your house will be an issue.
Keeping warm or cool in the British Summer
As we all know the British weather can be unpredictable, so adding a canopy, pagoda or outside heater can extend the time you are able to entertain outside. Canopies are a great way to not only add shade but also can provide cover for that inevitable rain shower. A pagoda is with a clear plastic roof is another way to help keep off the rain, and provide a focal point in your garden. Oil heaters can really range in price and output. It always best to look at the area you want to heat, and look at the output as well as the height. There are many different types from free-standing oil heaters to an electric tabletop or a fire pit. When working out what is best for you and your budget there are lots of guides online to help you chose the best one for you.
Does everyone need a seat?
When planning to hold a social gathering in your garden, where is everyone going to sit will be on your mind. Old furniture can be refreshed with some sandpaper, wood stain or paint. Seat pads can be brought back to life with new fabric coverings. There is lots of advice and tutorial videos on how to re-use and improve your current garden furniture. If you are in need of some new furniture, have a look at ex-display items or seconds, as they may be the hidden bargain you have been looking for. Also remember to think where and how you are going to store your garden furniture in winter, last thing you want to do is leave it out all winter.
If you need a little bit of extra cash to improve your outside space. We have loans available from £500 – £4,000 for garden improvements. You can apply today, just follow the link below.