Garden ideas on a budget
With all this lovely weather, you maybe looking at ways to improve your garden. We have some tip tips on how to make an instant impact in your garden on a budget.
Get cutting
One of the cheapest ways to transform your garden on a budget is to cut your lawn into a defined shape, ie a simple square, rectangle or circle! You can do this with a tape measure, piece of string and a spade. Depending on the size of your lawn it can be done in an afternoon.
Fill it up
A good selection of plants like geraniums, or astrantia can be a cost-effective way to full your flowerbeds. One of the best things about hardy perennials is that before you plant them you can separate the plants to cover a larger area, just make sure each part has a bit of root with it. Next year when they have grown a bit you can divide them up and spread the plants around even more. Or swap them with your family and friends and get some different plants in return.
Swaying in the wind
Trees can be perceived as expensive, but you can pick up a small tree like an ornamental cherry tree for under £20. Adding a tree to your garden gives instant height impact and considering their longevity works out to be relatively inexpensive. Do bear in mind the height the tree will grow too, and its proximity to fences, and buildings.
Clear the way
Cleaning and weeding your paths and patios is a must. You can do this cheaply by borrowing or hiring a pressure washer to clean up paving or decking, this can make a huge difference to your outside space. Do consider gravel if you are thinking of creating a new path, as it can be a lot cheaper than buying paving. You still will need mark out the area and pin down a permeable membrane to stop the weeds coming through. A pale gravel can be a nice contrast to your lawn and planting, giving great results.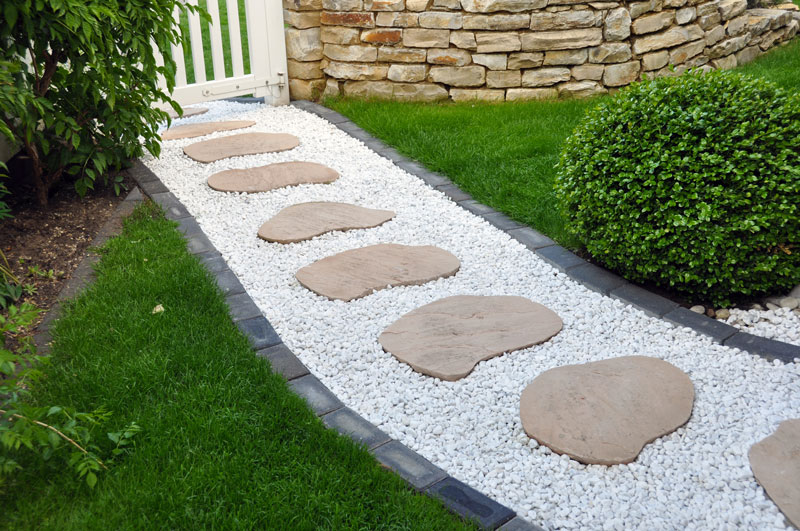 Shine bright
White, red, blue or yellow? There is a huge range of outdoor lights that can be bought online all year round and can add instant impact to your garden. Fairy lights can be arranged through shrub branches, or attached to furniture, static lights can be used to highlight a path or add drama to a tree. You can get solar powered versions of most lights if running the plug from your house will be an issue.